Friday, October 29, 2004
NO SIR, I WON'T
a million thanks to John Eden for blogging

this

site . lots of stuff i've never seen and a wealth of information...





posted by dubversion at 3:45 pm


Thursday, October 28, 2004
BEYOND ON THE IMPLODE ON PEEL
you can always reliable on yer man at Beyond The Implode to come up with the goods, and his reaction to the loss of Peel is as good as you'd expect...

in a list of his top ten Peel moments, there's this:


10) SHAM 69 SESSION

"I'D LIKE TO BUY A SHOTGUN / SHOOT THEM DISC JOCKEYS /
TONY BLACKBURN, JIMMY YOUNG / THEY NEVER PLAY WHAT I WANNA 'EAR!"

Do you need to know anymore? OK, I never heard this first time round, but the Peel Session version of 'What Have We Got' (Answer- "John Peel!" of course!) is one of the most essential recordings since Elvis first beat two sticks together in the
jungle. So fuck you, Charles Shaar Murray!

"FANKS, JOHN"




posted by dubversion at 1:50 pm



FORM A QUEUE TO BE APPALLED
thanks (i think!) to Eden for bringing our attention

this

horror....


posted by dubversion at 1:03 pm


Tuesday, October 26, 2004
GUTTED.

posted by dubversion at 1:22 pm


Monday, October 25, 2004
The Guardian Wimps Out (No Change There Then... )
"Charlie Brooker apologises for any offence caused by his comments relating to
President Bush in his TV column, Screen Burn. The views expressed in this column
are not those of the Guardian. Although flippant and tasteless, his closing
comments were intended as an ironic joke, not as a call to action - an intention
he believed regular readers of his humorous column would understand. He deplores
violence of any kind."


pointless spineless toadying fucknuckles.. all this after their ludicrous parroting of the ESF/Lee Jasper/Livingstone mafia pack of lies account of the 'Storming of Alexandra Palace'... racist attack my fucking arse...








posted by dubversion at 1:44 pm


Sunday, October 24, 2004
Charlie Brooker, Saturday October 23, 2004
The Guardian

Heady times. The US election draws ever nearer, and while the rest of the
world bangs its head against the floorboards screaming "Please God, not Bush!",
the candidates clash head to head in a series of live televised debates. It's a
bit like American Idol, but with terrifying global ramifications. You've got to
laugh.

Or have you? Have you seen the debates? I urge you to do so. The
exemplary BBC News website (www.bbc.co.uk/news) hosts unexpurgated
streaming footage of all the recent debates, plus clips from previous
encounters, through Reagan and Carter, all the way back to Nixon versus JFK.

Watching Bush v Kerry, two things immediately strike you. First, the
opening explanation of the rules makes the whole thing feel like a Radio 4
parlour game. And second, George W Bush is... well, he's... Jesus, where do you
start?

The internet's a-buzz with speculation that Bush has been wearing a
wire, receiving help from some off-stage lackey. Screen grabs appearing to show
a mysterious bulge in the centre of his back are being traded like Top Trumps.
Prior to seeing the debate footage, I regarded this with healthy scepticism: the
whole "wire" scandal was just wishful thinking on behalf of some amateur Michael
Moores, I figured. And then I watched the footage.

Quite frankly, the man's either wired or mad. If it's the former, he
should be flung out of office: tarred, feathered and kicked in the nuts. And if
it's the latter, his behaviour goes beyond strange, and heads toward terrifying.
He looks like he's listening to something we can't hear. He blinks, he mumbles,
he lets a sentence trail off, starts a new one, then reverts back to whatever he
was saying in the first place. Each time he recalls a statistic (either from
memory or the voice in his head), he flashes us a dumb little smile, like a
toddler proudly showing off its first bowel movement. Forgive me for employing
the language of the playground, but the man's a tool.

So I sit there and I watch this and I start scratching my head, because I'm
trying to work out why Bush is afforded any kind of credence or respect
whatsoever in his native country. His performance is so transparently bizarre,
so feeble and stumbling, it's a miracle he wasn't laughed off the stage. And
then I start hunting around the internet, looking to see what the US media made
of the whole "wire" debate. And they just let it die. They mentioned it in
passing, called it a wacko conspiracy theory and moved on.


Yet whether it turns out to be true or not, right now it's certainly
plausible - even if you discount the bulge photos and simply watch the
president's ridiculous smirking face. Perhaps he isn't wired. Perhaps he's just
gone gaga. If you don't ask the questions, you'll never know the truth.
The
silence is all the more troubling since in the past the US news media has had no
problem at all covering other wacko conspiracy theories, ones with far less
evidence to support them. (For infuriating confirmation of this, watch the
second part of the must-see documentary series The Power Of Nightmares (Wed,
9pm, BBC2) and witness the absurd hounding of Bill Clinton over the Whitewater
and Vince Foster non-scandals.)


Throughout the debate, John Kerry, for his part, looks and sounds a bit
like a haunted tree. But at least he's not a lying, sniggering, drink-driving,
selfish, reckless, ignorant, dangerous, backward, drooling, twitching, blinking,
mouse-faced little cheat. And besides, in a fight between a tree and a bush, I
know who I'd favour.


On November 2, the entire civilised world will be praying, praying Bush
loses. And Sod's law dictates he'll probably win, thereby disproving the
existence of God once and for all. The world will endure four more years of
idiocy, arrogance and unwarranted bloodshed, with no benevolent deity to watch
over and save us.

John Wilkes Booth, Lee Harvey Oswald, John Hinckley Jr - where are you now
that we need you?


there's really nothing I can add to that.


posted by dubversion at 6:12 pm


Thursday, October 21, 2004
UPTOWN TOP ROCKING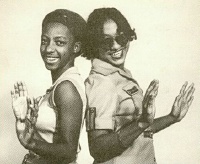 i KNOW bootlegs are like, SO September 10th, but this

one bootleg

alone justifies any amount of shite put out in the last couple of years.... i DEFY you not to grin your head off...


posted by dubversion at 11:17 pm


Monday, October 18, 2004
PEOPLE'S REPUBLIC OF DISCO WITH EXTRA DANCING GIRLS

This Saturday sees the
People's Republic of Disco
play host to the fantastic
Actionettes
- a groovin', cava guzzling troupe of 60s girl-pop style dancers... which should bring a hint of much-needed glamour to the lovely rundown Brixton Windmill.. So if you've not been for a while - or even more, if you've never been at all - this could be the one to come to...

posted by dubversion at 9:08 pm



PROD vs Beyond The ESF
and then my mammoth weekend continued with a
People's Republic of Disco
at Beyond The ESF at Middlesex University.. we were the closing party providers at the Hendrix Bar!
it started badly - no CD decks, no bar (the police had intervened) and no audience.. we really thought it was going to be a depressing debacle.. just a bunch of pissed off euro-crusties looking dour (there had been some unpleasant shit on the action earlier in the day, so this was understandable).. yet slowly but surely (largely thanks, believe it or not, to Mary J Blige) the crowd got bigger and the dancing got madder and i think we pulled it off. people seemed to get the idea, and loosen up, and just have fun.
there's something satisfying in watching a dancefloor of - what, 10 nationalities? - go batshit for Martha Reeves & The Vandellas....
in the end both shitey CD players just jammed so we couldn't play everyone's choices, which really upset the girl who'd brought the CD of Balkan folk dance tunes ("zis is not a democracy, it iz a diktatorship") and the guy who wanted 2 tracks off the Mob album, but on the whole it was a laugh...
thanks to the organisers, respect to the poor sods who spent the night in the cells .. thanks for having us...
and remember, folks - PROD is fairly adaptable and we do like doing benefits so let us know
i'll leave you with the sign some disgruntled student had stuck on the toilet doors:

posted by dubversion at 9:04 pm



UNSOUND SETLIST
despite being absolutely mashed on Saturday at Unsound, i did - quite unusually- manage to scribble down my setlist, partly because I'm doing mammoth 3 hour sets each month and I worry about repeating myself.. So, here it is..
Cornell Campbell - Dance In A Greenwich Farm

Lloyd & Devon - Wolf Out Deh

VC - By His Deeds

Rhythm & Sound - King In My Empire

Burning Spear - Marcus Garvey

Big Youth - Marcus Garvey

Delroy Wilson - Stop! Think What You're Doing

Michigan & Smiley - Nice Up The Dance (12" disco mix)

Derrick Harriot - Slave (12" disco mix)

Bob Marley - Keep on Moving (12" disco mix)

Dub Syndicate - Mafia

Singers & Players - Snipers In The Street

Jah Batta & Skatee - Style & Fashion

Butch Cassidy Sound System - Rudi

2 Culture Clash - Na Na Na

MIA - Galang

Team Shadetek - You Don't Know Me

Busta Rhymes/Beenie Man - Woo! Hah/Sim Sim AMix

Sean Paul - Infiltrate

Ackee - Call Me Rambo

Anthony B - God Above Everything

Beenie Man - King Of The Dancehall

Kovert - Soundboy

Kid 606 - (can't remember :) )

The Ruts - Jah War

2 Culture Clash - And Dance...

Dreadzone - Zion Youth

Zion Train - Follow Like Wolves

Aswad - Warrior Charge

Toots & The Maytals - Broadway Jungle Remix

Prince Buster - Al Capone

The Top Cats - Tear The Place Down

The Orb - Perpetual Dawn
which demonstrates once again that i should sort my set out properly before i go so that when i get increasingly fucked after about 2 hours, i don't bottle it and play the same bloody crowdpleasers all the time.. I mean - The Orb? sheesh...

another great Unsound though, although I have no memory of doing another short set in the morning about 6.30am to chill people out before they went home.. oops! Big shout to all the proper DJs - Offshore, the mighty Steve Deadlock and Richie Fingaz. and to the phenomenal Dead Silence Band - live drum and bass in the place.

Next month Jonno Dub Dadda is making his proper London debut (shows with Zion Train, Nucleus Roots and Community Charge notwithstanding) and I'm hoping he'll help me out on the mic and the Fx for my set too.. November 13th, Bar Lorca. you know you want it!!


posted by dubversion at 8:50 pm


Tuesday, October 12, 2004
ALL HAIL NOEL GODIN
whilst explaining to somebody about lead anarcho-flan flinger
Noel Godin's
days as a reviewer of non-existent films, I managed to google the Observer article from 1995 where I first came across him... and
here it is
courtesy of
Jah Sonic
(an online vocabulary of culture I feel I should have come across before.. )
It's a great article covering his rise to prominence as le premier entarteur - although a little dated now - but I really enjoyed his account of his time as the film reviewer for Friends Of Film:
The history of the flans is a bizarre and perverse one. Born and
educated in Liege, Noel Godin abandoned his law studies when he got caught up in
the student demonstations of May 1968. The following year, fired with enthusiasm
for the anarchist principles he has never forsaken, he was hired to write the
news column for Friends of Film, a magazine published by the Belgian Catholic
League.


"I started to print complete falsehoods - gradually at first, then
routinely," he recalled. "I invented non-existant films that I illustrated with
snapshots of my relatives. I worte face-to-face interviews with hundreds of
artists, including Frank Capra and Robert Mitchum, without ever leaving my
bedroom."


Readers of Friends of Film were introduced to the work of
imaginary geniuses such as Sergio Rossi, Aristide Beck and Viviane Pei, the Thai
director of such films as "The Lotus Flower Will No Longer Grow On The Shores Of
Your Island". Pei's acheivements, ceaselessly lauded in Godin's column, were the
more remarkable, he reported, in that she was "the only blind director in the
history of cinema". He enthused over "Vegetables of Good Will" (1970, Jean
Clabau), in which Claudia Cardinale played an endive, and "Germinal II", a
Maoist cartoon featuring Jean-Louis Barrault as the voice of a cold chisel.


When I voiced my scepticism of these stories, Godin produced a complete run
of the magazine, carefully preserved in chronological order, and clearly
authentic. In the first column I saw, Jeanne Moreau revealed Roger Vadim, former
husband of Brigette Bardot, to be "a DIY fanatic secretly obsessed with small
balsawood aircraft". Elsewhere, subscribers to Friends of Film learnt that
Marlene Dietrich led expeditions to hunt down the Loch Ness monster, that
Michael Caine had a motor that ran on yoghurt, and that Marcel Pagnol had
crossed the Channel on a four-poster bed fitted with an outboard motor.


Godin's celebrity "interviews" often found his subject in unusually candid
moods. "I am a cretin," confessed Richard Brooks, director of "Cat On A Hot Tin
Roof". "My films are mere wind." Robert Ryan, who player Deke Thorton in "The
Wild Bunch" argued that "herbivorism could make work a thing of the past".


Mindful of his devout readership, Godin announced a conversion every three
months, and reported the induction into the faith of such improbable penitents
as Luis Bunuel and Tennessee Williams. "I got away with it purely because I had
a credulous editor and the magazine was not distributed outside Belgium," said
Godin.

posted by dubversion at 10:24 pm


Monday, October 11, 2004
SHAKA SELLS SEVENS
Shaka's selling almost 500 of his 7"s. Wonder if he'd let me have the lot in exchange for a Pere Ubu boxed set and 2 Sebadoh albums?


no?



just so you get the general idea, here's the first 20


1. LOVE RASTAFARI Mighty Randells BROWNBEAT
2. SLEEPERS Winston Jarrett and
Flames SHABAZZ
3. DREAD FOR SOME Monyaka Band HEVYAKA
4. UGANDA Yusufali
& Revolutinaries PRINCE BUSTER
5. TIRED FE TO LICK WEED INA BUSH Jacob
Miller ARAB
6. BATTERING DOWN SENTENCE Bunny Wailer SOLOMONIC
7. BADMAN
COMES AND GOES Rod Taylor ADBRA
8. LOVE RASTA Jah Rubbal JAH RUBBAL
9.
STAND FIRM Jacob Miller TOP RANKING
10. UMOJA Dennis Brown DEB
11. ONE
STEP FORWARD Max Romeo BLACK ARK
12. DREADFULL SITUATION Carl Dawkins CANCER
13. BREDDA GRAVALICIOUS Wailing Soul MASSIVE
14. MUST BE A SOLUTION
Righteous Flames CLOCKTOWER
15. DEVIL IN THE CITY Calman Scott RAWSE
16.
HIT SONG Roman Stewart ARAB
17. WAR INA BABYLON Max Romeo UPSETTERS
18.
COME ON NATTY DREAD Joy White ARAB
19. MCM SPECIAL Ins MCM
20. JAH JAH
FORGIVE ME Leroy Smart LEO



posted by dubversion at 8:35 pm


Tuesday, October 05, 2004
OR EVEN...
.. maybe sod the I-Spy. Maybe we go the esoteric route.. a blogger derive... fetch up at a Blog that takes our fancy and then just drift through the blogosphere uncovering the hidden meanings of all the teenage poetry and pictures of ugly pets...

We could get Stewart involved. Perhaps his next pulp novel could centre on a politically ambiguous blogger who lays waste to the bloggerati while having depraved cyber sex with a housewife/divorcee from Iowa called Karen Eliot.... together, our dirty blogger and his willing cyber-accomplice could descened the steep cliffs of desire as atomised individuals, knowing that for a few fleeting moments their parallel ports had fused and functioned as a single bitstream....

Iain Sinclair could attempt to follow the 'Next Blog' link all the way to the sea, noting along the way that nobody had read as many books as he had or had as many elliptical exhanges with yer man Drummond, who at this very moment is attempting to buy

www.blogger.com

and turn it into a random surrealist insult generator based in the Hebrides.

"La vote ne change rien. Le blog continua"

"underneath the hard drive is the blog"

"Be realistic! Demand a more user-friendly interface"

or perhaps I need to start drinking again...


posted by dubversion at 1:27 pm


Monday, October 04, 2004
BLOGGER I-SPY
The (recently-ish) revamped Blogger layout introduced the horror of the 'Next Blog' button.
Possibly intended to make us all feel like a proper little community, all it does it remind me that I'm nestled - virtually - between two other blogs. And even worse, that they're NEVER THE SAME!!!
One day, I'm hanging with some FinnishHalo expert who wants to share his cheats and screenshots with a waiting world. The next day i'm rubbing up against some preppy fuck in New England who just wants to show me photos of his new SUV, his new teeth and his new preppy fuck girlfriend.
It's positively unsettling. I don't like change. I'm no wild-eyed adventurer - go to the deranged likes of Uncarved or Grievous Angel if that's the kind of excitement you're after. I want comfort and constancy. Not a regular reminder that i'm but a tiny- and ever-shifting - part of some huge Blog hive mind
But - you know me, always keen to accentuate the positive, doncha know? - I think we should do something with this. Take the insecurity and sense of futility and turn it into something worthwhile and affirming.
Like a GAME!!!
so ladies and germs, i suggest some twisted version of I-Spy. I haven't finished working out the rules but I guess they'd basically work like this:
Go to someone's blog (a proper blog, like what me and that nutter over at Beyond The Implode have got - none of this designer label bespoke nonsense that all those other poshos have got, with their degrees and their in depth knowledge of whatever the fuck it is Deleuze & Guattari are on about) and when you've finished reading their latest rant about the death of grime or the rebirth of grime or how grime doesn't pay. When you've finished that, cross your fingers and click the button and see where you end up.
There will be points available, as follows:
picture of blogger with pet: 5 pts (deduct one if it's another fucking rabbit called Bun Bun)
rant about how Michael Moore is a freakin a-hole and we'd all be speaking Iraqi by now if it wasn't for the Marines, and like, my brother is out there now and I hope he takes some freakin' towelheads out: 5 pts
picture of blogger's girlfriend/boyfriend pulling dumb face: 1 pt
rant about how Michael Moore has done a terrible disservice to the Left by failing to take into account a rigorous class analysis of the War On Terror, resorting instead to empty gestures and pointscoring: 2 pts. Award yourself another 5 pts if this blogger is over the age of 15.
Having that annoying 'fade' effect between pages: 4 pts
Lyrics from a Metallica album either as the tagline of the blog or within at least the first three posts: 10 pts
Anything self-evidently goth (old school Goth, goth metal, industrial Goth, Emily Strange, etc): no pts at all. what's the fucking use? you'd all be on 1,000,000 pts before the end of the week otherwise. Where do all these fucking goths come from anyway?
Hello Kitty pictures or references: 2pts
Anything at all in Klingon: 10pts. Deduct these points (and any others you may have amassed if you either a) understand it or b) even wonder what it means.
Blogs written in text speak. Yeh, 4 real. 4ptz
People with wacky profiles. And wacky pictures in their wacky profiles: 10pts. (and DAMN Blogger for introducing this shit).
FUCKING IRRITATING ANIMATED CURSORS ON BLOGS.. FUCK OFF WITH YOUR MULTICOLOURED STRINGS OF FAIRIES AND PRETTY FUCKING LIGHTS: 2pts.
Neo-Nazi crackpot recipe sites. Or How To Be A Better Survivalist Through Pearl Barley. 20pts
Utter Utter Pretension - elliptical taglines, Zen-like posts, stuff like this:
i feel as empty as a drum
i wrote this on april 22, 2003 (as the war in iraq
began). just random thoughts 15pts
i hope there's a few suggestions to get you started. Perhaps some other bloggers out there would like to add their suggestions.

It's a sad and beautiful world.


posted by dubversion at 4:59 pm



HEADLINE NEWS: POPULATION BOOM CRIPPLES BLOGGING COMMUNITY


"There is no more sombre enemy of good blogging than the pram in the hall. "*

(with apologies to Cyril Connolly)

(* except perhaps what my GP has described as my 'slow motion nervous breakdown'. hmm. being signed off work for a while to drool a bit and bang my head against my desk should be optimum blogging time. but it's not working out like that... the things i'd normally blog just don't seem to excite me enough to want to write about them. and the things that i do want to write abouit have no place here, i'm afraid.. as forthright as i generally am on these pages, this stuff is best kept out of the public domain.... but HEY! - at least

Pop Will Eat Itself have reformed

!


posted by dubversion at 10:17 am